panos @ 2012-06-15 23:38:56 GMT
Performance title : Johnny guitar
Artist name : Eleni Roda
Medium title : Atakti Zoi Live
Release date : 4/2001
Record label : LYRA
Catalogue number : LYRA4989/90
Format : 2 CD
Remarks : It is a live recording of a musical show created by Mihalis Reppas and Thanasis Papathanasiou and performed by Aphroditi Manou and Eleni Roda in Athens amd Thessaloniki.
The re-release of 2009 has EAN : 5202483769527 and was released at 09/09/2009.
Links (to verify) :
Preview song:
http://www.getitnow.gr/prod/biblia-cd-dvd/moysiki/greek-music/popular/atakth-zoi...
http://itunes.apple.com/gb/album/28-agapimena-tragoudia-live/id384592651
Info about the release :
http://www.musiccorner.gr/nees_kyklof/atakti_zwi.html
http://www.lyra.gr/ViewShopProduct.aspx?Id=53879
http://www.e-go.gr/music/article.asp?catid=17517&subid=2&pubid=25883
CD covers:
First release 2001: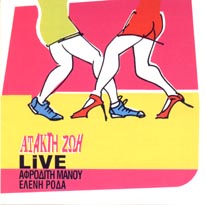 Re-release 2009:
Last edit: 2013-05-24 18:28:30 GMT by Limbabwe